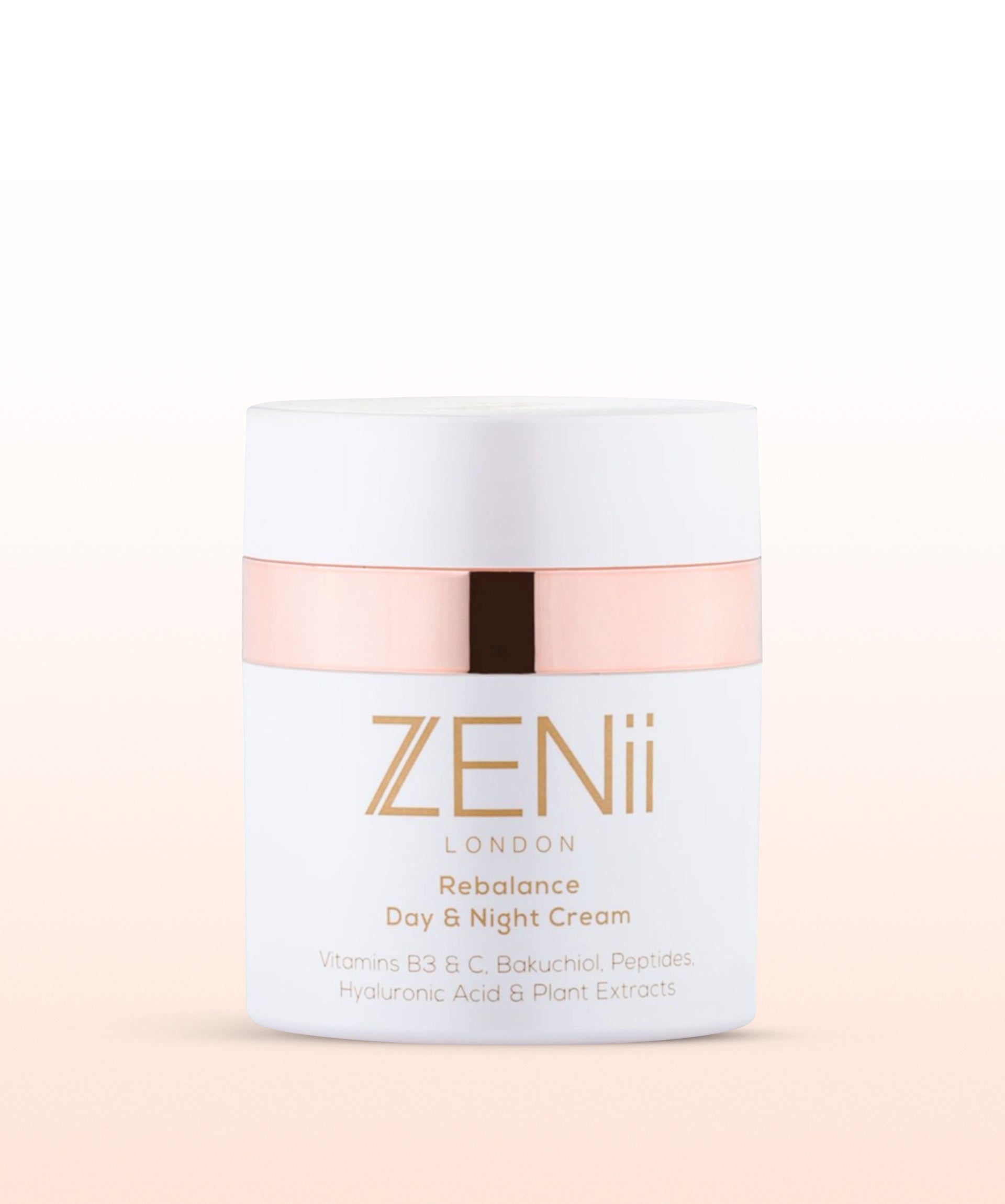 Rebalance Day & Night Cream
This next generation Bio-Regenerative skin cream has been specially formulated for hormone depleted skin and within weeks of launching won the Best Menopause Cream at the Get The Gloss Awards 2022. It contains powerful patented cosmeceutical ingredients designed to support and stimulate hormone depleted skin - to jumpstart collagen & elastin production, reduce age related inflammation, neutralise free radical damage and restore skin barrier function.

✅ Packed full of clinically evidenced skin supporting ingredients
✅ Improves skin firmness and elasticity caused by oestrogenic decline
✅ Reduces skin inflammation and stress
✅ Reduces skin sagging and improves the appearance of jowls, crows feet and marionette lines.

Ideal for: Peri-Menopause and Menopause. Stressed Skin. Proactive Anti-ageing.
FREE CANDLE OR REED DIFFUSER WITH ORDERS OVER £200
Rebalance is packed full of incredible, clinically evidenced skin supporting ingredients that help to create powerful dialogue between the skin cells during the challenging time of oestrogen depletion.

• Feminage –a NEW ingredient ethically sourced from Engelhardia (Sotuh east Asian Walnut tree). It preserves fibroblast vitality against glycation and oxidation. It also improves skin firmness & elasticity caused by oestrogenic decline. It is clinically evidenced to reduce skin sagging and improves the appearance of jowls, crows feet & marionette lines.
• Defensil Soft – a powerful patented skincare ingredient known to reduce skin inflammation and stress. It is derived from Northern Truffle wild picked mushrooms. It works by blocking TRPV1 that degrades collagen and increases the skin's sensitivity. It is clinically evidenced to reduce neuro-inflammation in sensitive skin, protects the skin against irritants and protects against IR thermal ageing. It is ideal for skin that is going through hormone depletion, a severe form of skin stress.
• Anti-oxidant protection & free radical neutralization – A stabilized form of Vitamin C with good skin penetration and conversion to Ascorbic Acid is used in this formula. Vitamin C is the most powerful and evidenced skin antioxidant available commercially. Vitamin C has been combined with vitamin B3 (Niacinamide) in this formula for its synergistic antioxidant protection giving superior protection from free radical damage. Niacinamide is also an excellent skin smoothing and calming ingredient. Together they become antioxidant & anti-inflammatory in one.
• Bakuchiol – 0.5% Bakuchiol is used for powerful anti-ageing & wrinkle reduction. Bakuchiol has been tested against Retinol in clinical trials and has been shown to perform like for like with 0.5% Retinol for lines, wrinkles & photodamage but without the skin irritating side effects. Bakuchiol also communicates with the fibroblast cell to create constant dialogue keeping it active vital. Fibroblast preservation is important during oestrogen decline. Bakuchiol is clinically evidenced to reduce hyperpigmentation in the skin to help improve skin tone and brighten the skin's appearance.
• Ultra Low Molecular Hyaluronic Acid for deep cellular hydration – The lower the molecular weight the better the hydration. Ultra Low Molecular Weight gives turbo hydration and improves skin elasticity. Hyaluronic Acid is known to be one of the most powerful ingredients for deep hydration for menopausal skin. It helps to combat the dehydration that accompanies hormone loss. In this formula we have combined ULMW Hyaluronic acid with ceramides because hormonally depleted skin often has impaired skin barrier function too. If you don't support the skin barrier with ceramides then the hyaluronic acid cannot be as effective. Together they form a powerful and effective rehydration DUO.
• Ceramides – Skin barrier function becomes dysfunctional for many in the perimenopausal years. The skin can become sensitive and irritated and loses water through an impaired skin barrier. Ceramides are powerful reparative lipids that help to repair the vital skin barrier. The ceramides used in Rebalance are sourced from sustainable Organic Olive Oil with some of the best lipid profiles for ageing skin.
• Plant Extracts and Peptides for cellular repair – Matrixyl 3000, Progeline and EGF are a Triple Cocktail of the most powerful anti-ageing peptides on the market. Peptides work by communicating with skin cells. This Triple Peptide Cocktail creates reparative and regenerating dialogue with the important cells of the extra cellular matrix and the fibroblast to support the cutaneous repair process and to maintain skin activity despite hormonal decline.
Use morning and night on cleansed skin. Can be used on the face, neck, décolletage & hands. For best results follow morning application with a liberal amount of sun protector.
Aqua, Glycerin, Simmondsia Chinensis Seed Oil, Niacinamide, Silybum Marianum Ethyl Ester, Squalene, C20-22 Alkyl Phosphate, C20-22, Panthenol, Propanediol, Phenoxyethanol, Tocopherol (Vitamin E), Butylene Glycol, Bakuchiol, Oryza Sativa Bran Wax, Parfum, Sodium Ascorbic Phopshate (Vitamin C), Arachidyl Glucoside, Glycogen, Halianthus  Annuus Seed Oil, Hyaluronic Acid, Cellulose Gum, Ceramide NP, Sodium Gluconate, Benzoic Acid, Dehydroacetic Acid, Engelhardtia Chrysolepis Leaf Extract (Feminage), Glucose, Albatrellus Confluens Extract (Defensil Soft), Carbomer, Inulin, Sodium Lactate, Xantham Gum, Fructose, Mannitol, Pantolactone, Polysorbate 20, Ethyhexylglycerin, Dextran, Trifluoroacetyl Tripeptide 2 (Progeline), Plamitoyl Tripeptide 1(Matrixyl 3000), Palmitoyl Tetrapeptide 7, sh-Oligopeptide 1(SpecBio EGF Plus Liquid), Citric Acid, Benzoyl Alcohol, Geraniol, Linalool.

Vegan & Paraben Free.

Doctor Formulated.
Lovely smell
This cream has really transformed my dull, periomenopausal skin. Plus, it smells lovely !
Review
I've been using this cream for a few months and love it. I've actually had people ask me about my skincare routine since using it as my skin has been glowing and looking really smooth. I use it day and night, it has a great pump which means you only use what you need. And it smells great!
Review
I love my Zenii Rebalance cream for my Peri menopausal skin. It's practically targeted the impact on the human or changes and dryness that I was experiencing.
Review
Rebalance Day and Night cream is second to none ! Once I hit the menopause my skin was noticeably drier duller and more sensitive. After trying a few menopause skincare ranges found ZENii and is now my go to skincare range. It leaves my skin feeling firmer hydrated and luminous with daily use. The formula has super restorative ingredients, not only reducing my Finelines but it hydrates my skin deep into the dermis .
Thank you Zenii
Review
I've been using this cream a few weeks now and I love it . Smells amazing and the results have been so good already . I'm peri menopausal and am prone to break outs and dry areas and the rebalance cream is definitely helping with these issues . Thank you Zenii . Another great skin product !
Let customers speak for us