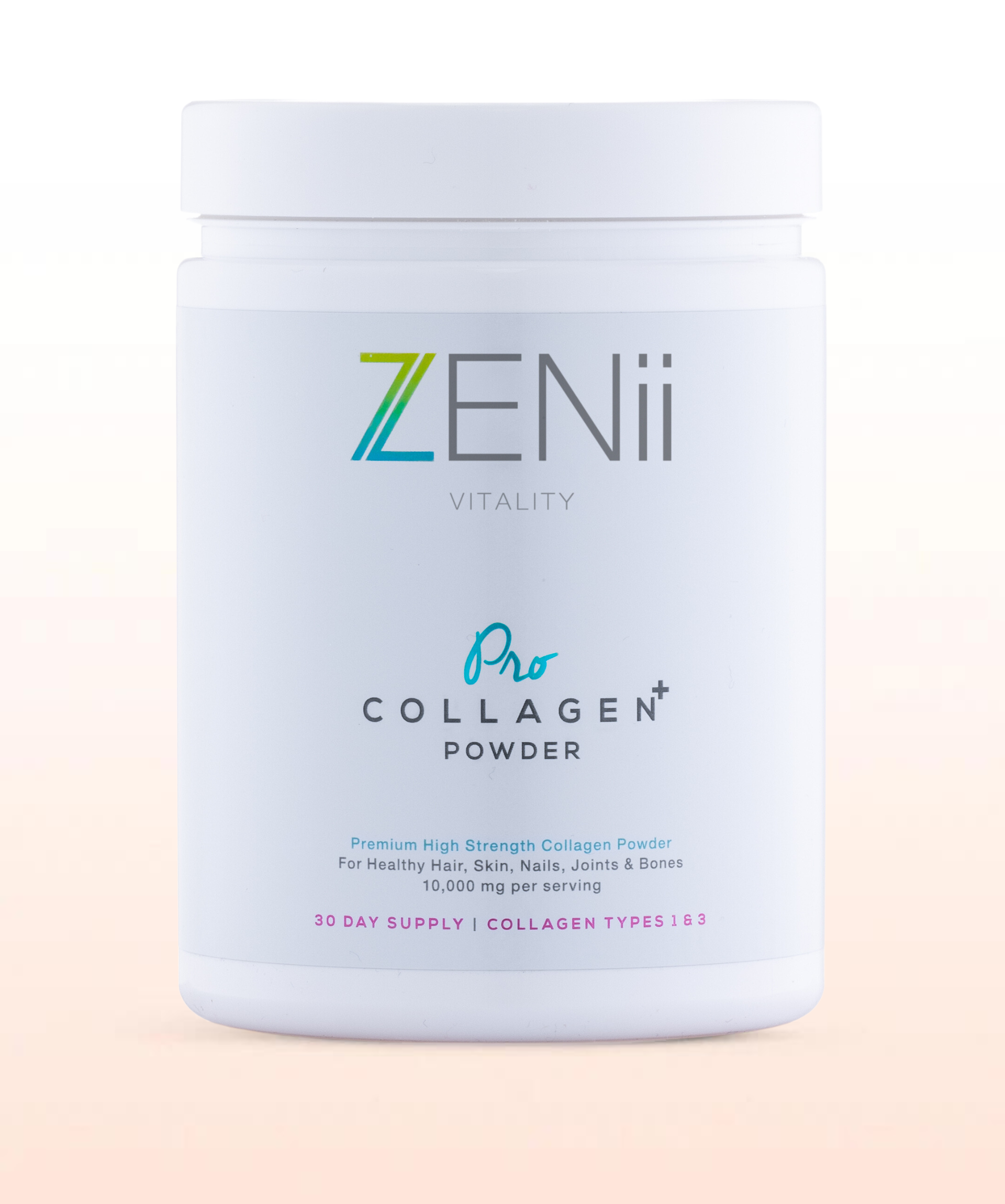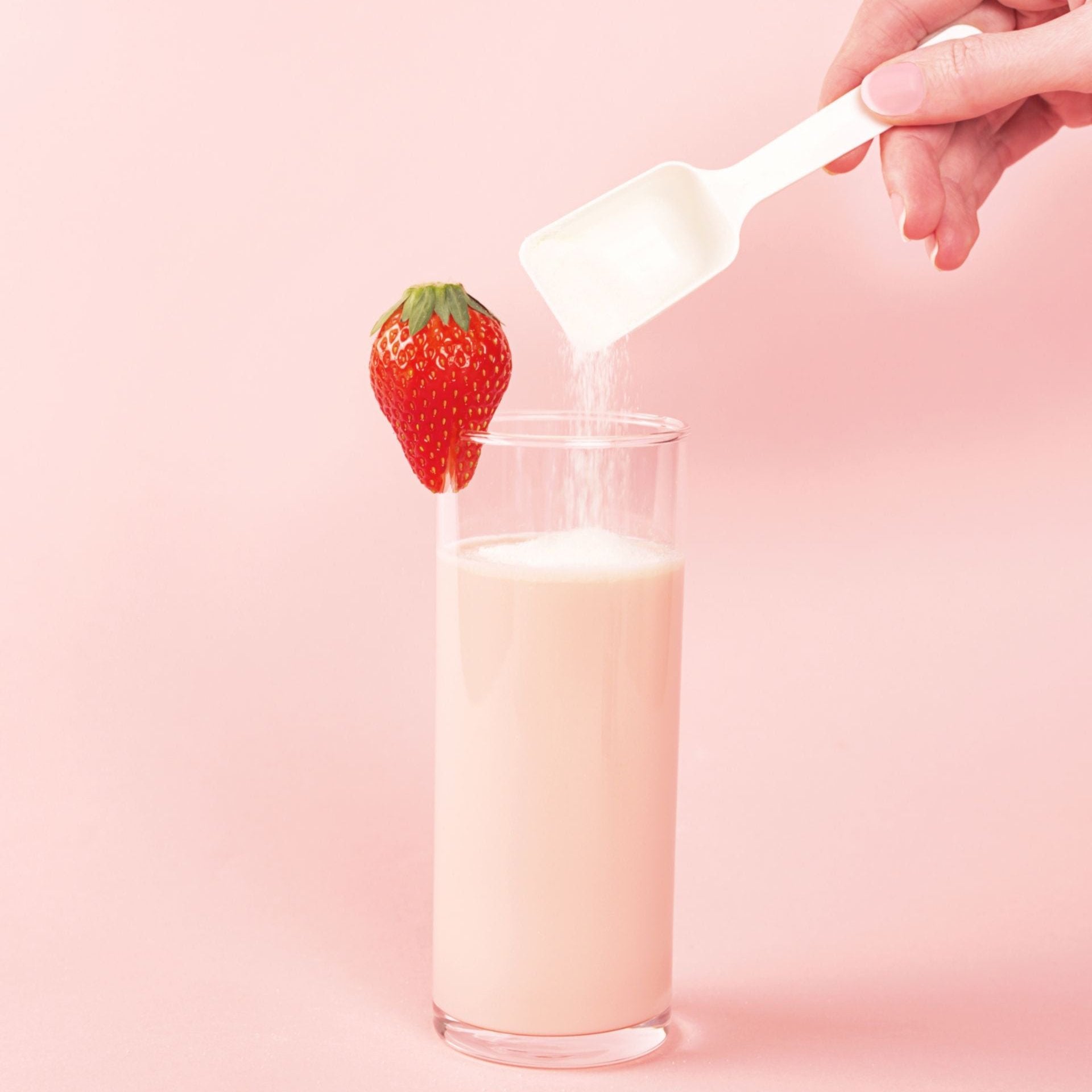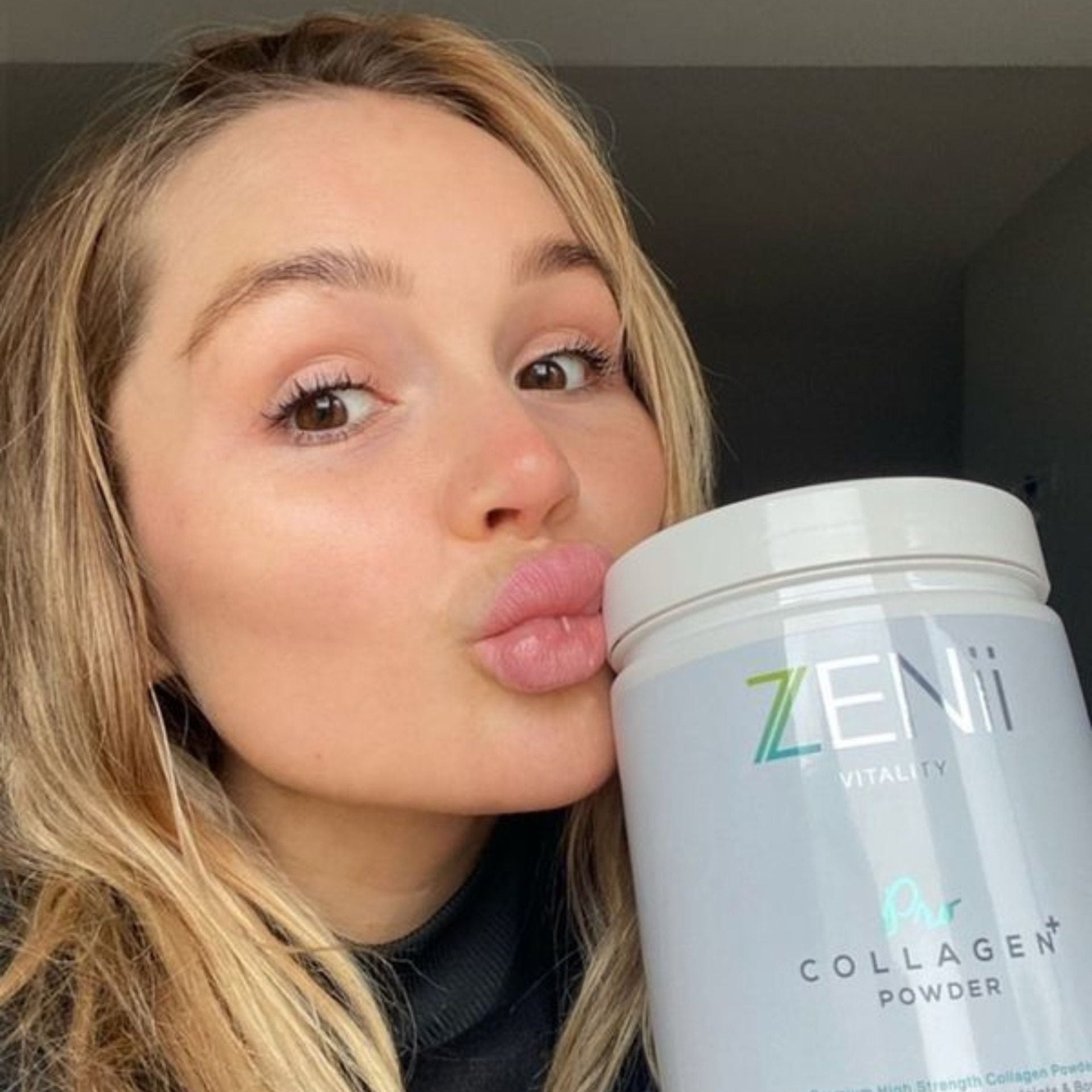 ProCollagen+ Powder

As recommended by
Alison McDonalds, Sports Massage Therapist
"ZENii ProCollagen+ powder has massively improved my hair, nails and skin after just 8 weeks. It tastes great and I add it to my smoothies every morning!".
ProCollagen Powder is a high strength (10,000mg) marine collagen powder ideal for adding into juices and smoothies to enhance your daily health regime.

It contains 10,000mg marine collagen with amino acids glycine, proline & hydroxyproline which helps to boost your skin, hair, nail, joint & bone health.

Ideal for: Beauty, anti-ageing, hair, nail, joint & bone health.

FREE CANDLE OR REED DIFFUSER WITH ORDERS OVER £200
Collagen is the most abundant protein in our body. It helps to support healthy hair, skin, nails, joint & bones. As we age our collagen production declines at about a rate of 1% per year. This results in ageing & sagging of the skin, hair & nail thinning, joint & bone dysfunction. Supplementing with a premium hydrolysed marine collagen can help boost collagen levels and can help prevent ageing of the tissues, joints & bones.

ZENii ProCollagen+ Powder is a highly purified collagen supplement made from hydrolysed collagen peptides. Hydrolysis is a process where the collagen is broken down into small, bioavailable chain peptides for improved absorption and utilisation by the body. Hydrolysis is key to this advanced formulation.

This formula is ideal for adding into smoothies & juices to give you a daily collagen boost.

Helps fight collagen deterioration and free radical attack. Clinically evidenced to improve skin hydration and reduce wrinkle depth.

Free From: GMO's, gluten, lactose, nuts, eggs, soy, artificial colours & preservatives

Container is BPA free. Made under GMP manufacturing standards in the UK.

Allergy warning: Contains FISH
Add 10g of powder per day into juices or smoothies or sprinkle onto foods.

Consult your Doctor before starting any dietary supplements to check for contraindications. If you are pregnant or breastfeeding or have any medical problems please consult your Doctor or Healthcare Practitioner.
Allergy warning; Contains Fish

Low molecular weight hydrolysed Peptan marine collagen

10,000mg per serving (2 scoops per day)

Hydrolyzed marine collagen type 1 contains the amino acids: L-glycine, L-proline, L-alanine, L-hydroxyproline, L-glutamic acid, L-arginine, L-aspartic acid, L-serine, L-lysine, L-leucine, L-valine, L-threonine, L-phenylalanine, Lisoleucine, L-hydroxylysine, L-methionine, L-histidine, L-tyrosine, L-cysteine.
Amazing
I have tried a few other collagen products however this one is far superior than the rest. Honestly worth the extra pounds, within a few my skin feels softer and more importantly plumper. I have occasionally found I break out in spots with some other collagen powders, not this one. I just wish perhaps the postage was free 😀
Powder convert
I was sceptical what difference collagen would make but I'm a complete convert. For me, the biggest difference was my hair. It's thicker and glossier. My perimenopause skin also looks brighter. I'm completely addicted to the powder and add it to my tea every morning! Thanks Zenii! Amazing product ♥️
Review
I put this in my morning coffee and couldn't be without it now. It doesn't taste of anything which is great. I have noticed that my nails are stronger and my skin looks so much healthier. Its now one of my skincare essentials. Love it!
Review
I love this product! I have tried a few other collagen supplements and I just do not find they give anywhere near the same result as I get with this one. It's not just the difference in the quality of my skin that I have noticed – it's also my strengthened hair and nails too!
Review
I already use several products from the ZENii range which I love, but have been late to the collagen party. Having decided to take my skincare regime to the next level, I decided to give the procollagen+ a go. And I really do rate this product from ZENii. I have been using it for a couple of months now and friends are asking me what skincare I am using! I haven't changed my skincare creams, the only change has been to add ZENii procollagen+ and it is obviously making a difference. Definitely recommend.
Let customers speak for us