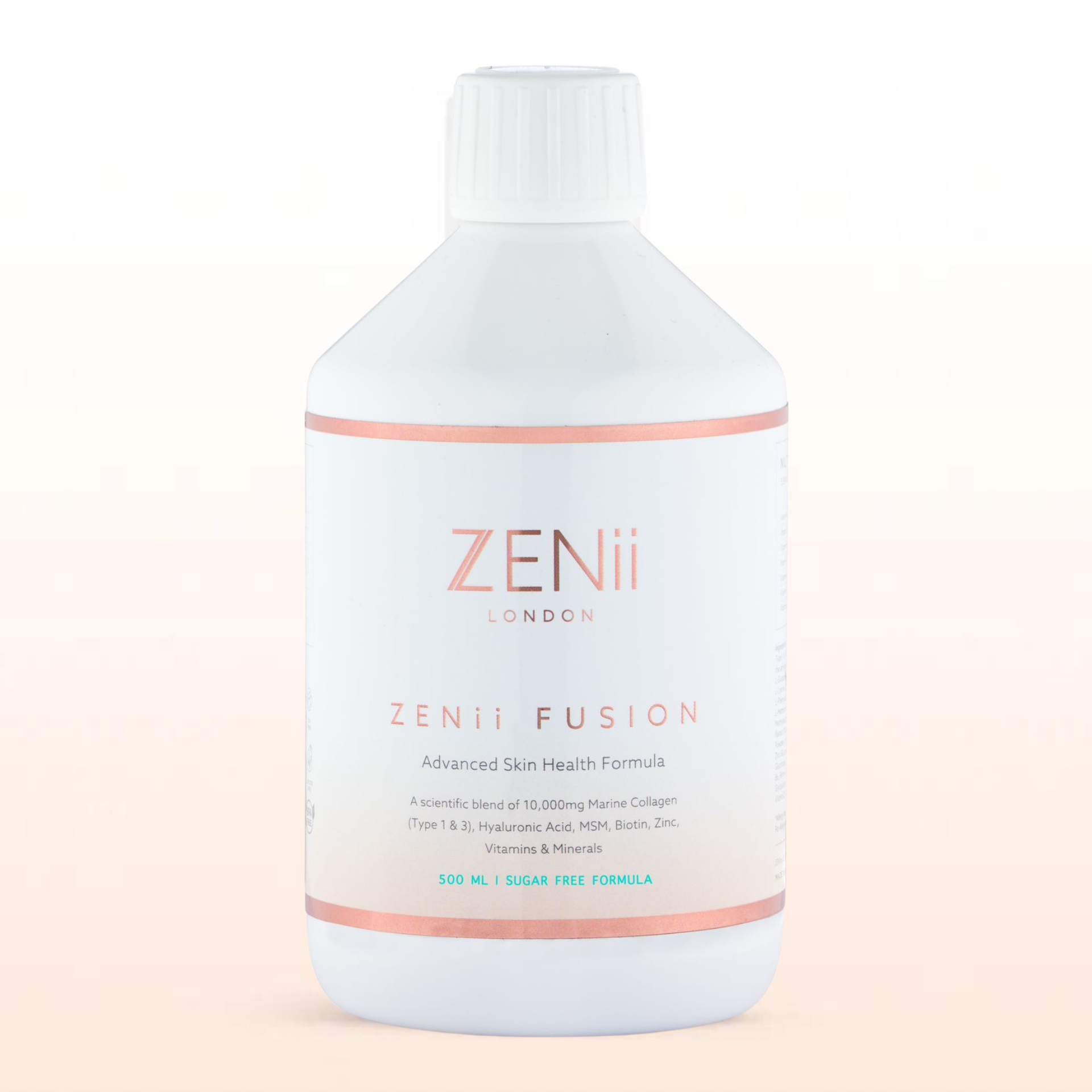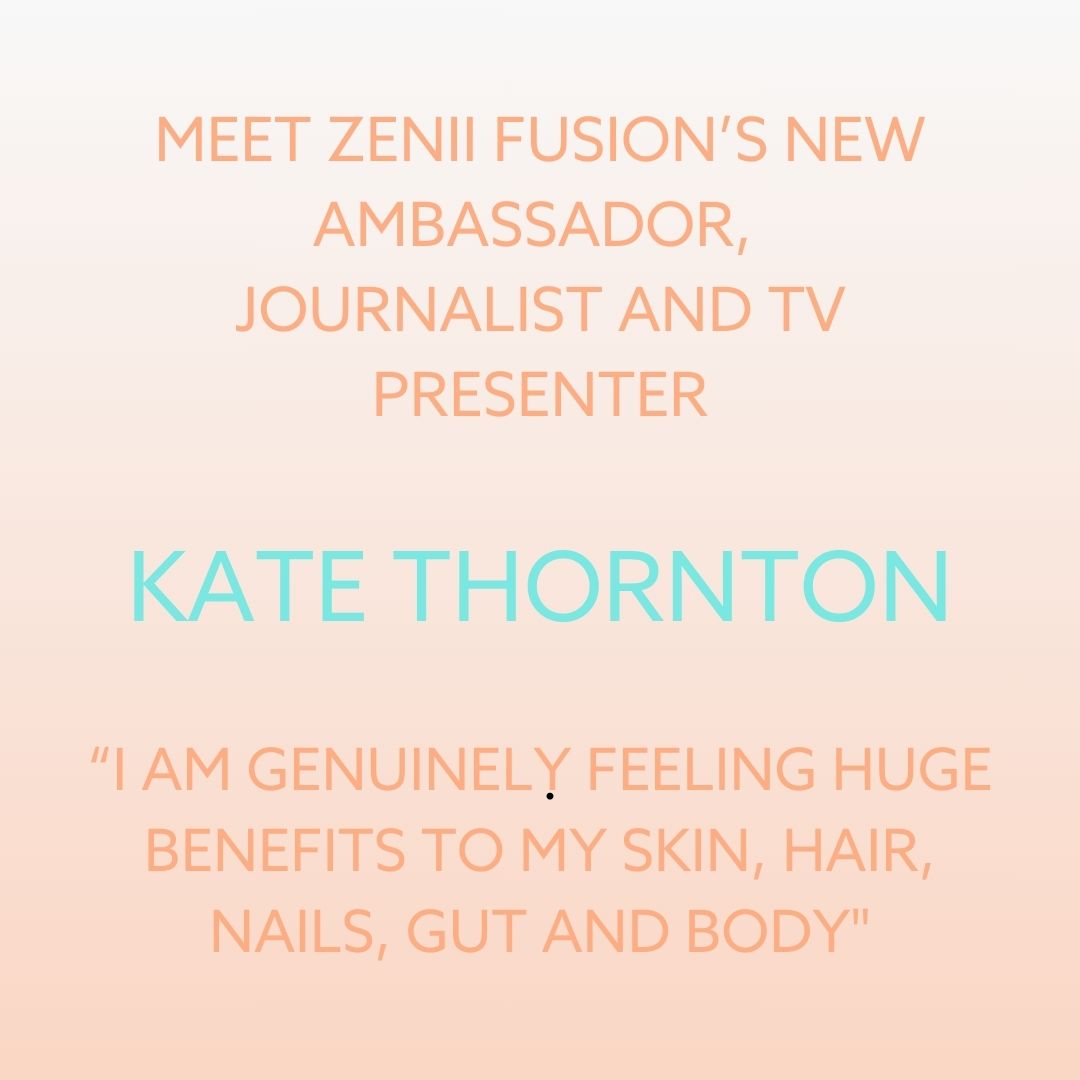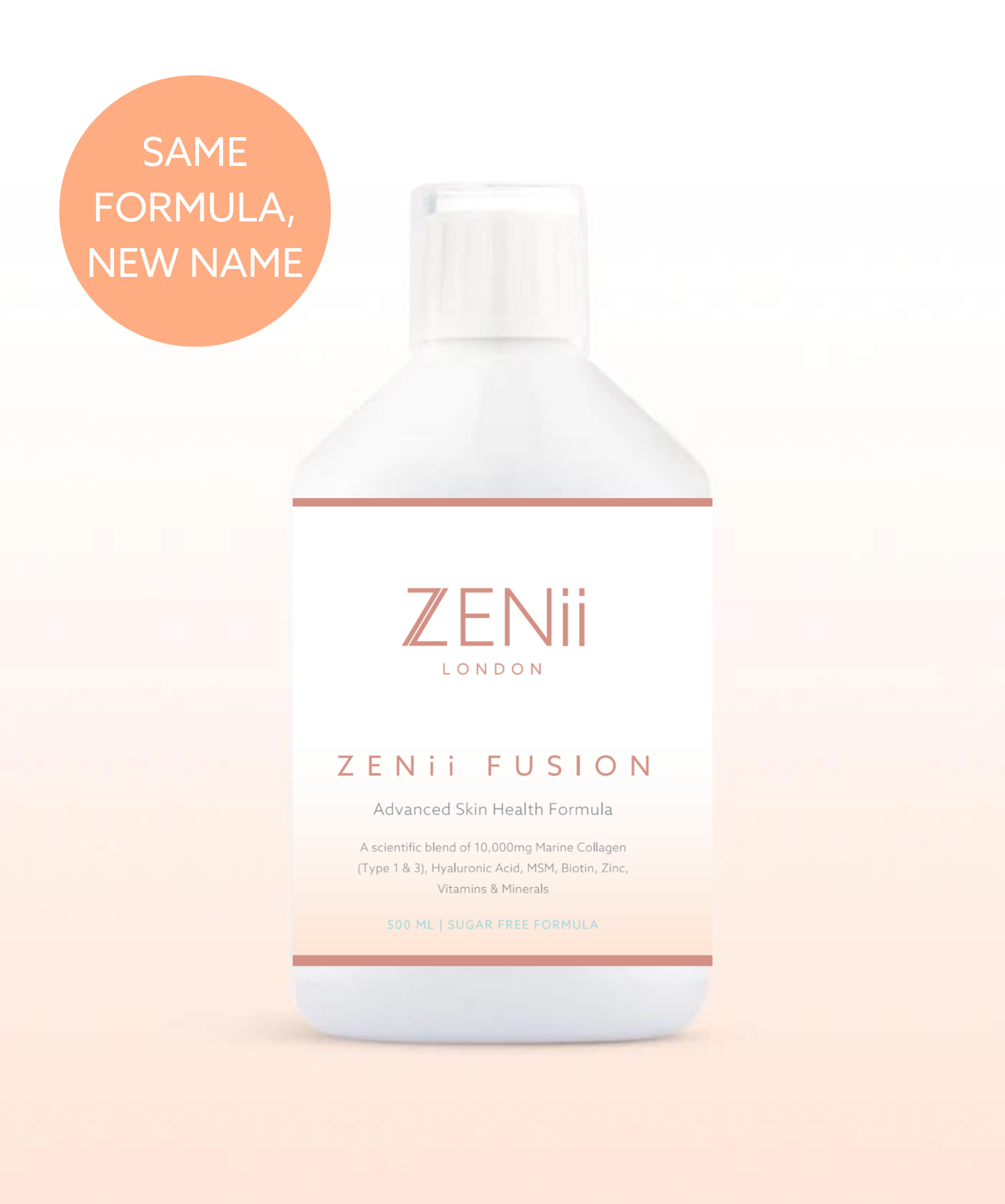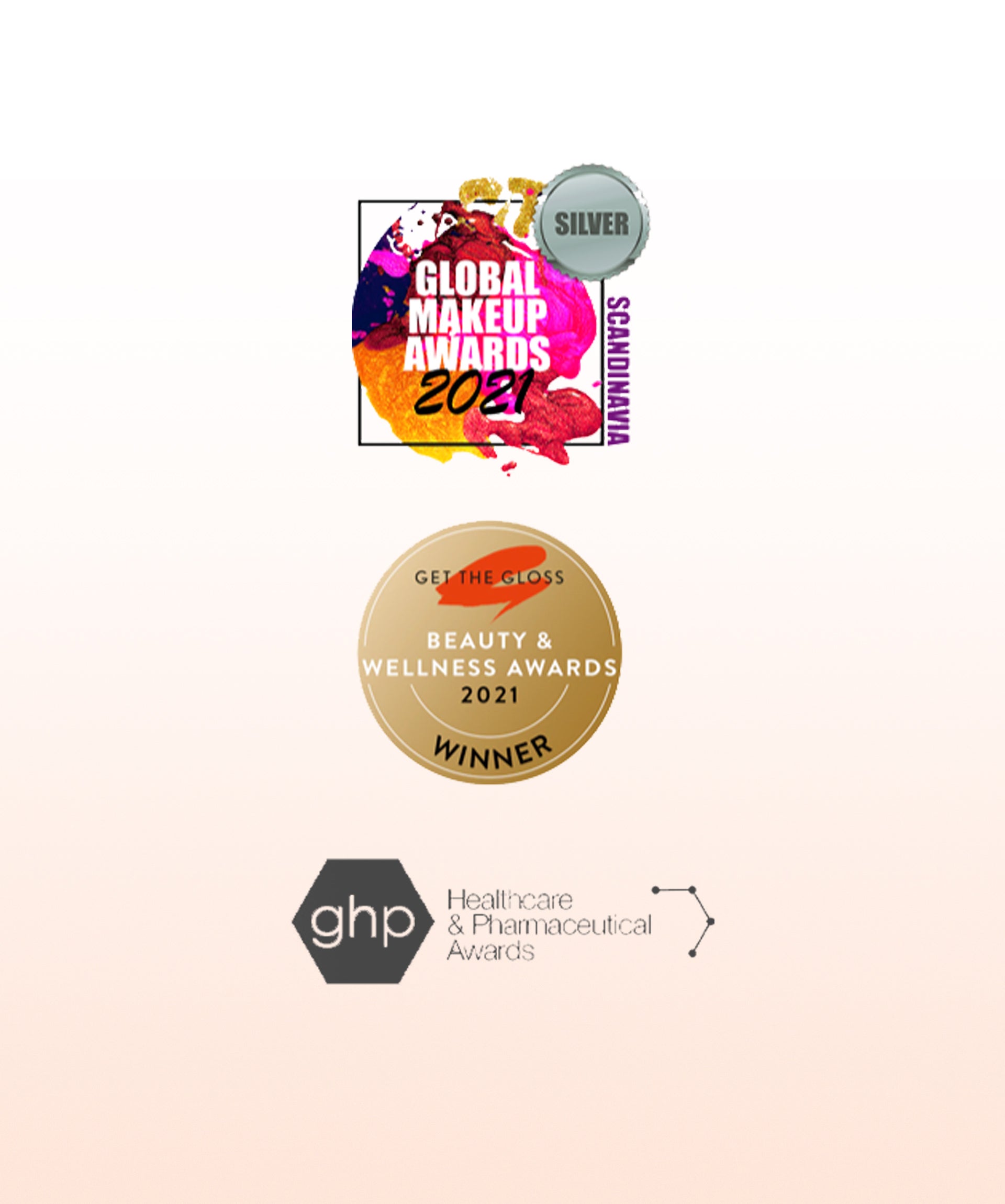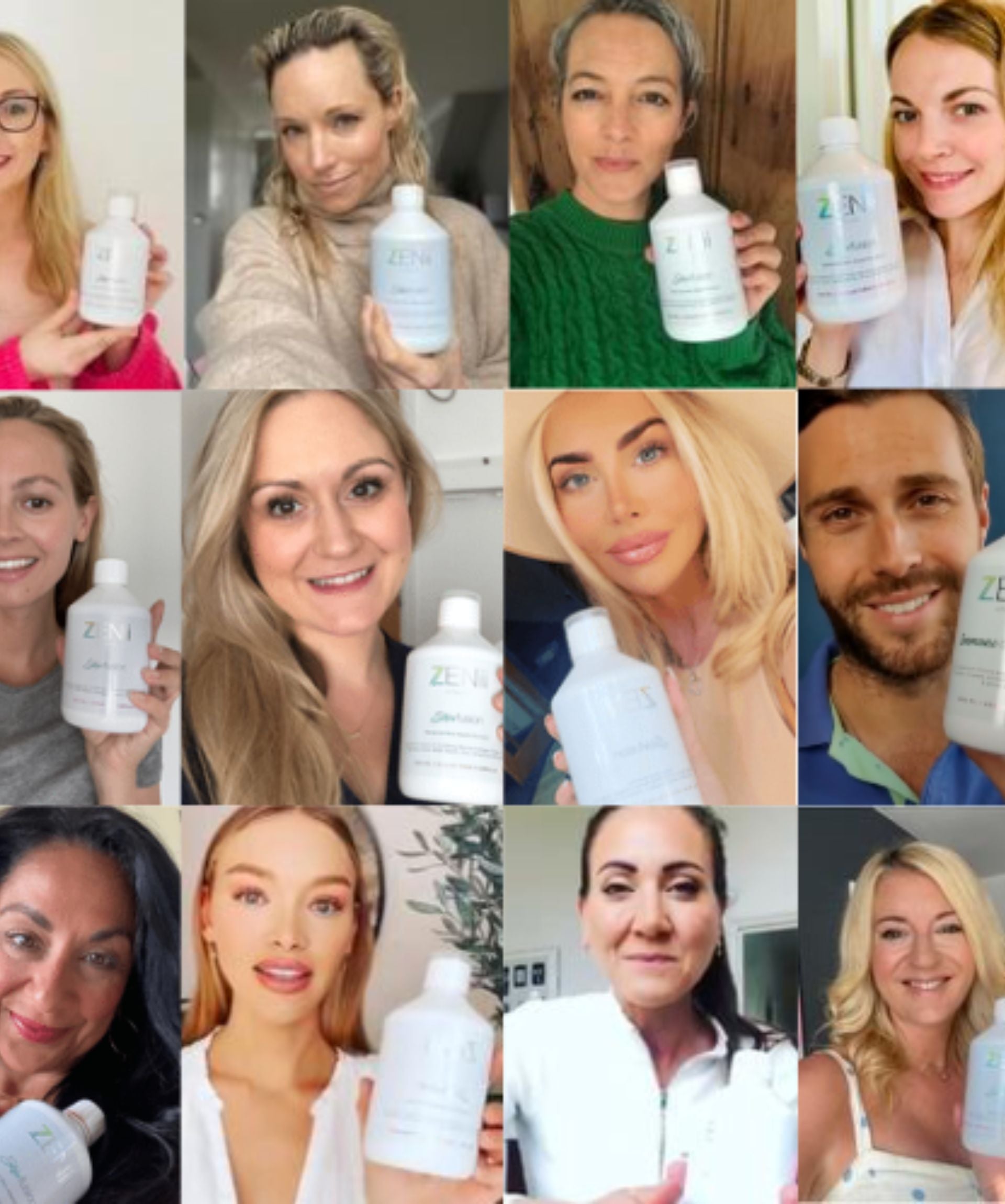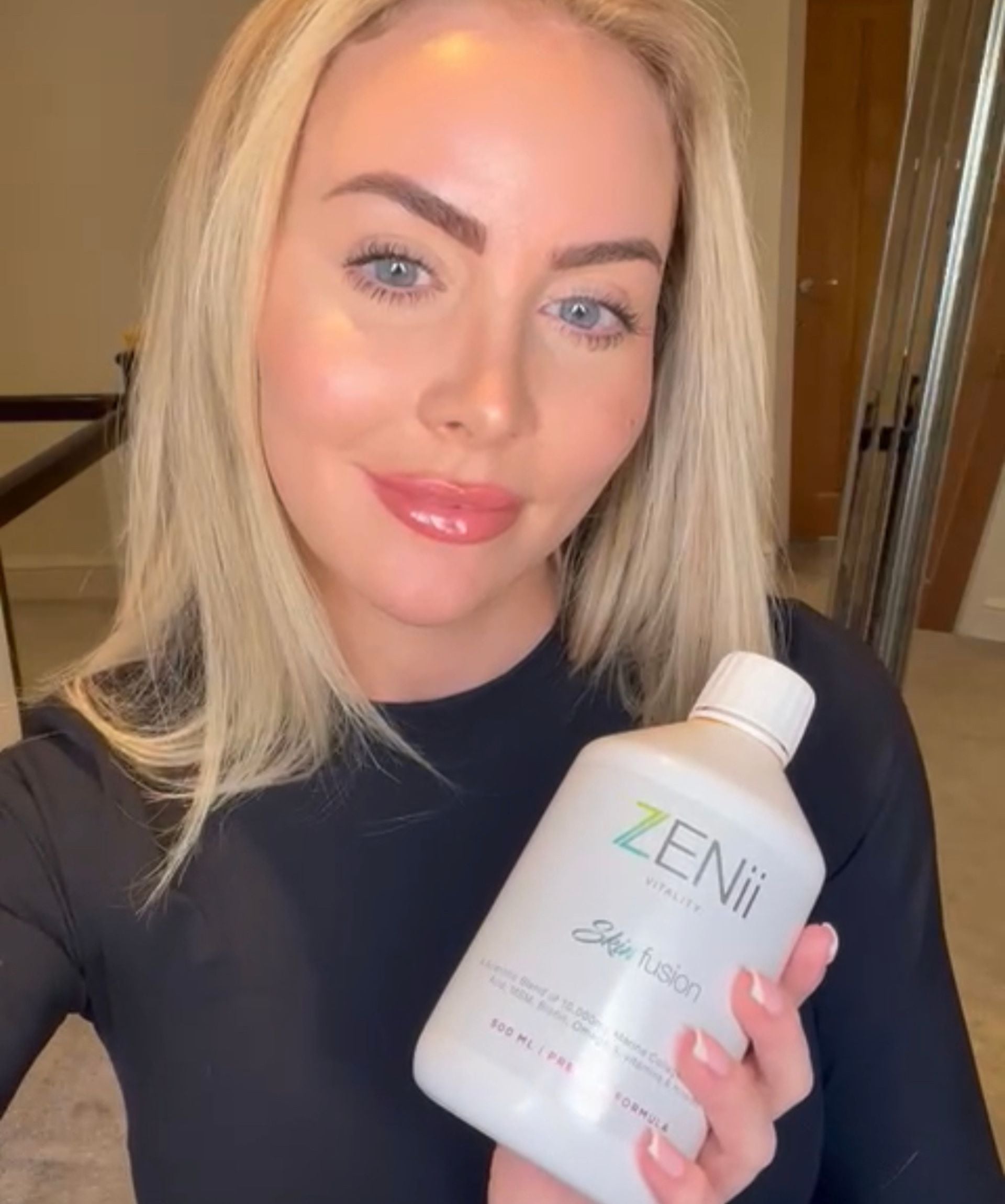 ZENii Fusion (Previously Skin Fusion)

As recommended by
Kate Thornton, TV Presenter and Journalist
"The key to a good collagen is the ingredients. ZENii Fusion has the required 10,000mg of sustainable marine collagen required to move the dial in your body and it also contains the highest dose of Hyaluronic Acid of any supplement on the market. It also contains power player anti-aging molecule MSM. 12 weeks after starting to take it, I am genuinely feeling huge benefits to my skin, hair, nails, gut and body so ladies go and get it!"

Simply add 3 to your basket and save £45 at check-out

Please note: Other discount codes are not valid for our bundle offer. 

ZENii Fusion is the new name for ZENii's hero product Skin Fusion and is exactly the same liquid and formula created by ZENii's Founder Dr Johanna Ward in 2016. ZENii Fusion is an incredible blend of high strength marine collagen (10,000mg), hyaluronic acid, MSM, vitamins, minerals and antioxidants in a highly bioavailable liquid form. We have re-named Skin Fusion 'ZENii Fusion' because it does more than only transform your skin, it transforms your whole body - from skin, hair, nails, joints, vessels and more. It is the ultimate anti-ageing health support.
Introducing Kate Thornton, TV Presenter and Journalist as ZENii Fusion's new brand ambassador. 
Kate said: "The key to a good collagen is the ingredients. ZENii Fusion has the required 10,000mg of sustainable marine collagen required to move the dial in your body and it also contains the highest dose of Hyaluronic Acid of any supplement on the market. It also contains power player anti-aging molecule MSM. 12 weeks after starting to take it, I am genuinely feeling huge benefits to my skin, hair, nails, gut and body so ladies go and get it".
Ideal for: Anti-ageing, skin health, skin repair, nail strength, hair strength.
"ZENii Fusion is one of our most popular supplements. It delivers and performs on so many levels but is most popular with our patients interested in anti-ageing because it delivers results" - Dr Tracy Mountford, The Cosmetic Skin Clinic.
Voted Best Anti-Ageing Drink 2020 and 2021 - Healthcare and Pharmaceutical Awards
 
New Updated Sugar Free Formula
Doctor Formulated and Doctor Recommended
The most intelligent collagen on the market with high performance co-ingredients such as MSM and Hyaluronic Acid.

Over 300,000 Doses of ZENii Fusion Enjoyed by Our Customers
FREE CANDLE OR REED DIFFUSER WITH ORDERS OVER £200
ZENii Fusion (was Skin Fusion) is a multi -award winning scientific blend of 10,000mg marine collagen, hyaluronic acid (150mg), MSM, antioxidants, vitamins and minerals. It is clinically evidenced to improve skin hydration, improve elasticity and to boost the skin's own collagen production. ZENii has re-named Skin Fusion 'ZENii Fusion' because it does more than transform the skin however, it transforms the whole body - from your hair thickness, nail strength, joint motion, vessel health and flexibility.

ZENii Fusion contains skin specific amino acids proline, glycine and hydroxyproline. These are the three most important amino acids for the Triple Helix of Collagen. These amino acids send signals to the body's collagen producing cells (called fibroblasts) to powerfully jump start them back into production mode. Like flicking a light switch back on, your skin responds to these amino acids with new collagen production (a process called neo-collagenesis). Think of it as taking your body back into youthful mode!

Collagen is the most abundant protein in our bodies and plays a pivotal role in the structure and integrity of the skin keeping it tight and strong. Your body can make collagen but it's a complex process and you need to produce a lot of it on a daily basis. In our youth any damage to collagen is quickly repaired and levels always remain high. But as we start to age our levels of collagen start to deplete and production slows down significantly.

As we get older, our collagen levels deplete and our natural ability to produce new collagen declines. This starts to happen from the age of 25. By the age of 40 it is estimated that most people will have lost about 20% of their collagen. During the first 5 years of menopause a further 30% is lost (collagen production plummets with oestrogen decline). Collagen decline results in wrinkles, thinning bones, weak joints, thinning hair, brittle nails, leaky gut and can negatively impact almost every aspect of human health. Any little boosts that you can give your body will help considerably when it comes to collagen.
ZENii Fusion is the ultimate daily supplement for skin health and advanced anti-ageing. It contains clinically evidenced 10,000mg marine collagen with hyaluronic acid, vitamins and minerals.

It has been designed to deliver the highest levels of skin boosting micronutrients and collagen to help the skin sustain and replenish itself on a daily basis. The skin is the largest organ in the body and is a physiologically active organ replacing itself evert 4-6 weeks. It has a huge requirement for nutrients and cellular support. No skin cream can substitute for what the blood can bring to the skin in terms of cellular nutrients, vitamins and minerals.

10,000mg marine collagen has been shown in trials to reduce the collagen fragmentation rate, stimulate synthesis of new collagen, reduce wrinkle depth and improve skin hydration.*

Each serving of ZENii fusion contains:

10,000mg hydrolysed marine collagen (high in skin specific amino acids such as glycine, proline and hydroxyproline amino acids. Hydrolysed marine collagen is great for hair, skin & nail strength)
Vitamin A (helps to stimulate efficient skin cell turnover & is a powerful antioxidant)
Vitamin C (a co-factor for collagen production & a well researched and evidenced antioxidant)
Vitamin D3 (an important immune support vitamin. It helps in skin repair and prevents ageing and acne)
Vitamin B6 ( B6 helps to synthesise collagen. Deficiency causes dry, flaky skin)
Vitamin B12 (B12 reduces redness and infllammation in the skin)
MSM (an organic sulphur that many people are deficient in, helps support hair, skin & nail strength)
Hyaluronic acid (a powerful skin hydrator, draws water to the skin)
Magnesium (a mineral needed for cellular renewal and repair)
Zinc (a mineral needed for wound healing and skin health. Zinc deficiency causes dry, red and acne prone skin)

Free from: Gluten, Soy, Lactose, Eggs & Nuts.
Free from BPA & GMO's
Made under GMP

*Asserin, J. et al., 2015. The effect of oral collagen peptide supplementation on skin moisture and the dermal collagen network: evidence from an ex vivo model and randomized, placebo-controlled clinical trials. Journal of Cosmetic Dermatology, 14:291-301. doi: 10.1111/jocd.12174
Take one 25ml per day for 5 out of 7 days a week.
Can be taken as a straight shot or mix with sparkling water, juice or into smoothies.
Keep in the fridge once opened. Discard after 60 days of opening.
Marine collagen (Fish) 10,000mg
MSM 250mg
Hyaluronic acid 150mg
Vitamin A 100mcg
Vitamin C 120mg
Vitamin B5 5mg
Vitamin B6 1mg
Vitamin B7 50mcg
Vitamin B12 3.75mcg
Vitamin D3 5mcg
Zinc 10mg
Magnesium 2mg
Selenium 2.75mg
Silica 7mg
Delicious taste
I love drinking a shot of this each day. It tastes good and I know that I can ditch most of the other capsule supplements I take because they're all combined within it. I've noticed my skin to be in great condition since starting it so I'd highly recommend.
Amazing Results
I have moved from using the powered collagen and the pro hydrate to the skin fusion so I think my results had already begun, but I don't think I'll ever be able to be without this now
Really impressed so far
Ive been using for around 6 weeks now and noticed a glow to my skin and my skin feels more firm. Also noticed new growth of baby hair around my hairline... so its a win win!!
I started taking skin fusion some 2 months ago and now my skin looks very radiant and healthy. Also my hair is stronger now. Taking the skin fusion is also super easy which I love, highly recommend.
Collagen supplements work by stimulating the body's own collagen synthesis by activating dermal fibroblasts. This triggers an increase in the body's natural collagen levels through the process of neo-collagenesis (NEW collagen formation). A good collagen supplement will contain high levels of the skin specific amino acids Proline, Glycine and Hydroxyproline. These three amino acids are the building blocks of the Triple Helix of Collagen. If you don't have good levels of these three amino acids in your body then your skin will never be strong and radiant. Proline, Glycine and Hydroxyproline are the most important amino acids for skin health and are found abundantly in all ZENii collagen supplements. Hydroxyproline is also clinically evidenced to stimulate an increase in dermal production of hyaluronic acid which helps the skin maintain its intracellular moisture.

The ideal dose from clinical trials is 8-10g (8000- 10,000mg) of hydrolysed collagen per day. At this dose oral collagen has been clinically proven to reduce the rate at which our own collagen breaks down, improve the skin's innate collagen production and improve skin hydration and healing.

In March 2021 a Systematic Review of 19 different Randomised Controlled Trials* (the gold standard in medical evidence) was published in the International Journal of Dermatology and showed clear and consistent positive skin health benefits for daily hydrolysed collagens. This groundbreaking evidence has silenced any non believers and has led to a huge jump in collagen supplementation amongst the general population. Athletes are also taking collagen for its tissue repair benefits and HC is also being used for the treatment of arthritis and osteoporosis.

In clinical trials daily hydrolysed marine collagen supplementation (10,000mg) was found to:
Reduce fine lines and wrinkles
Improve skin hydration
Improve skin elasticity
Stimulate new collagen, elastin and hyaluronic acid production
Improve skin luminosity
Reduce inflammation
It's important to look for hydrolysed collagen as it's a process that plays a key part in how effective your supplement is. Hydrolysis is a process whereby collagen is broken down into small peptide chains that make it more bioavailable – ie easier for your body to absorb and use. Hydrolysed collagen is thought to be the only kind of collagen that can impact the skin positively and it's what the clinical trials and data support.
We test all batches for heavy metals and certify them free from mercury, cadmium and hormones. All our supplements are made to pharmaceutical standards and are manufactured under GMP (Good Manufacturing Practice) codes.

We use non GMO's raw ingredients and we test and certify every batch heavy metal and toxin free. We only use marine collagen from freshwater sources.
The simple answer is no. Collagen is hard to come by in the modern western diet because it has typically been removed from today's diet. Very few people still consume bone broth or eat organ meats like our ancestors once did. That's why a supplement can be really helpful because, as we know, collagen production declines from as early as our mid 20's. Taking a daily supplement with high in glycine, proline and hydroxyproline will deliver the basic amino acid building blocks for the tissues to continue to produce collagen PLUS they will signal for NEW collagen production.

If you are vegan or vegetarian then try our ProLuminous supplement – it has been designed to support the collagen that you have through powerful action of collagen protecting antioxidants.
International Journal of Dermatology March 2021 Roseane B De Miranda et al "Effects on Hydrolysed collagen supplementation on skin ageing: A Systematic Review and Meta-Analysis'

Journal of Cosmetic Dermatology 'Collagen supplementation for skin health: A mechanistic systematic review' Meisam Barati et Al 2020 Nov:19(11): 2820-2829

Journal of Cosmetic Dermatology 14 291-301 Asserin J, Lati E, Shioya T, Prawitt J. 'The effect of oral collagen peptide supplementation on skin moisture and the dermal collagen network'

Skin Pharmacol Physiol 'Oral supplementation of specific collagen peptides has beneficial effects on human skin physiology; a double blind, placebo controlled study' E Proksch et Al 2014: 27(1): 47-55

Nutrients 2018 Jun 26:10(7):826 'Oral Intake of Low Molecular Weight Collagen Peptide Improves Hydration, Elasticity and Wrinkling in Human Skin: A Randomised Double Blind, Placebo Controlled Study' Do-Un Kim et Al

Journal of Dermatological Treatment Wich Sangsuwan et Al 'Four weeks daily intake of oral collagen hydroxylate results in improved skin elasticity, especially in sun exposure areas: a randomised double blind, placebo controlled trial' Feb 2020

Current Medical Opinion and Research Volume 24 2008 Issue 5 '24 week study on the use of collagen hydroxylate as a dietary supplement in athletes with activity related joint pain' Kristine L Clark et Al
Let customers speak for us