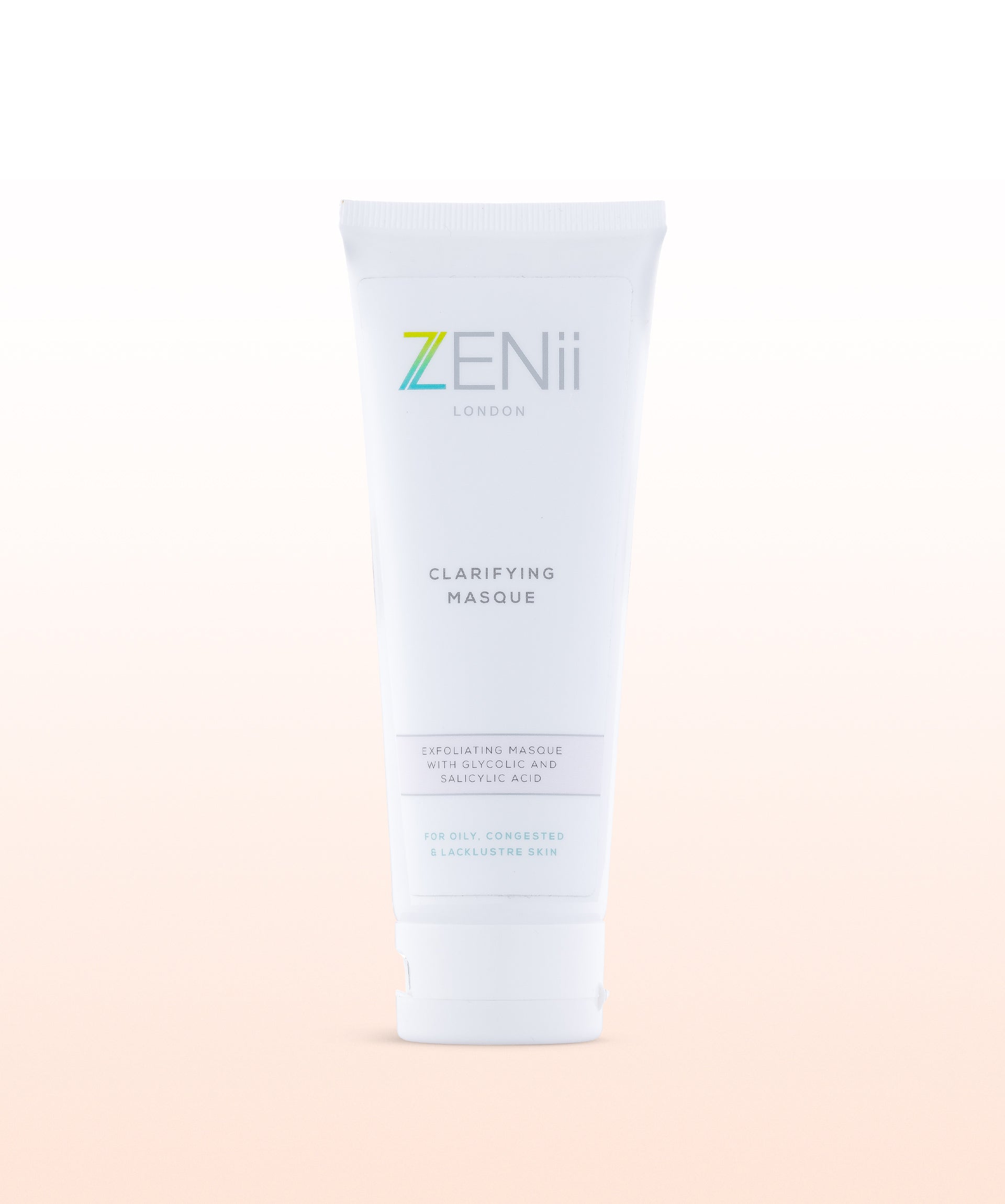 Clarifying Masque
Clarifying Masque (100ml):
This beautiful dead sea mud masque combines glycolic acid, zinc oxide and dead sea mud for ultimate oil and pore control performance. It can be used on all skin ~ including sensitive skin ~ for oil control, detoxification and skin hydration.
Mineral rich dead sea mud
Glycolic acid and zinc oxide
Oil and pore control


Suitable for all skin types.
FREE CANDLE OR REED DIFFUSER WITH ORDERS OVER £200
• Clinically proven to treat acne
• Clinically proven to treat blackheads, congestion and micro-comedones
• Exfoliates the skin to brighten and smooth
• Anti-inflammatory

Dead sea mud is a unique type of mineral rich clay that is hugely beneficial for the skin. In dermatology Dead Sea Mud is known as the most superior and multi-functioning of the clays because it can detoxify, hydrate and rebalance the skin all at once. It is rich in potassium, magnesium and sodium and has been used for centuries for skin detoxification & therapy. In fact Dead Sea Mud contains 21 natural minerals, 12 of which are found exclusively in the Dead Sea. Minerals, like vitamins, are essential for your skin's metabolism. Used in masques, Dead Sea mud helps draw out impurities and control excess oil (sebum) in the skin.

This masque also contains zinc oxide and glycolic acid. Zinc Oxide has been used in dermatology for years to help calm skin inflammation and help reduce sebum production. Glycolic acid is an Alpha Hydroxyacid (AHA) that helps remove redundant skin cells and unwanted cellular debris.

This masque is a powerful tool for anyone with acne, excess oil, enlarged pores or dull skin that needs detoxification, rejuvenation or brightening.

*Can be used in pregnancy for treating spots & hormone related breakouts. Use 2-3 per week.
Use after cleansing & toning the skin 2-3 times a week as required. Leave on the skin for 5-30 minutes as tolerated. You may experience mild tingling due to the glycolic acid. This is normal. AM or PM.

*Can be used safely in pregnancy for treating spots & breakouts. Use 2-3 times per week.
Aqua, Kaolin, Caprylic/Capric Triglyceride, Propylene Glycol, Glyceryl Stearate SE, CI 77947, Cetyl Alcohol, Glycerin, Maris Limus Extract, CI 77891, Glyceryl Stearate, PEG-100 Stearate, Glycolic Acid, Cera Alba, Isopropyl Palmitate, Aloe Barbadensis Leaf Juice, Citric Acid, Panthenol, Sodium Cocoyl Isethionate, Phenoxyethanol, Decylene Glycol, Caprylyl Glycol, Sodium Benzoate, Potassium Sorbate, Melaleuca Alternifolia Leaf Oil, Lavandula Angustifolia Oil, Linalool, Hexyl Cinnamal.

Review
Brought this along with the salicylic exfoliator, using both products has completely changed my skin for the better. It is not longer congested, feels so clean and smooth!
This mask leaves your skin feeling so detoxed and refreshed.
Review
Better than a facial ! I love this product ! Transforms your skin. Massively recommend x
Review
Absolutely LOVE this product and a must-have! You can feel the mask working, it smells amazing and your skin feels so refreshed afterwards. 100% recommend this product!!
Review
This is literally my favourite product from the whole line. If you want clear, brighter and smoother skin this has you covered!. I apply it to damp skin and leave on for around 10 minutes and then remove to give me fresh skin. It gently exfoliates whilst deep cleaning the pores with the deep sea mud!. I've noticed brighter skin along with less blackheads around my nose area. It's a hidden gem!. The consistency is a nice rich texture and you feel it working with the Glycolic acid too!. No irritation but first time users for actives maybe leave on just for 5 minutes.
Review
This masque is beautiful, probably my favourite Zenii product. Smells lovely, is a treat to put on and leaves my skin feeling clean, supple and glowing.
Let customers speak for us