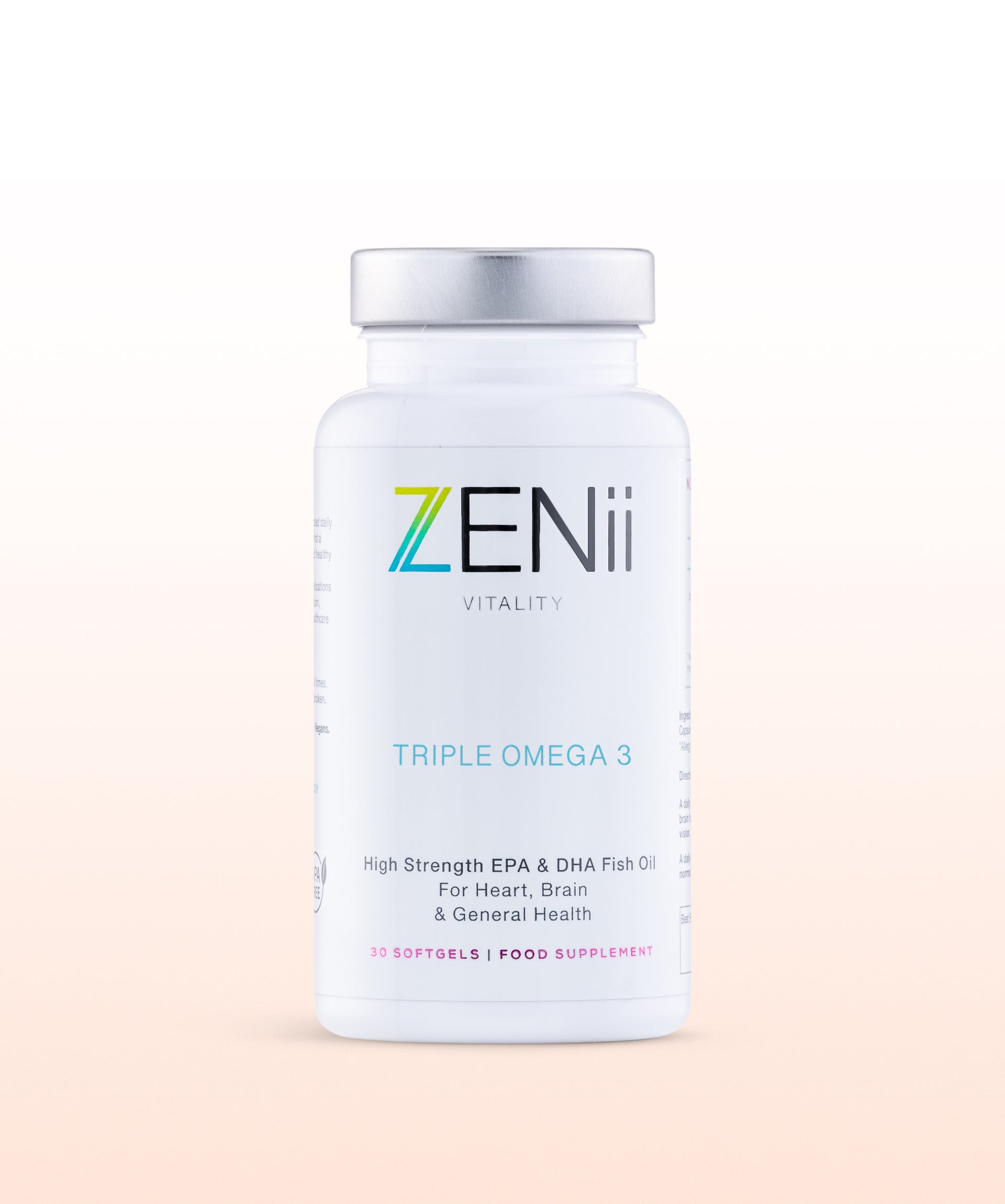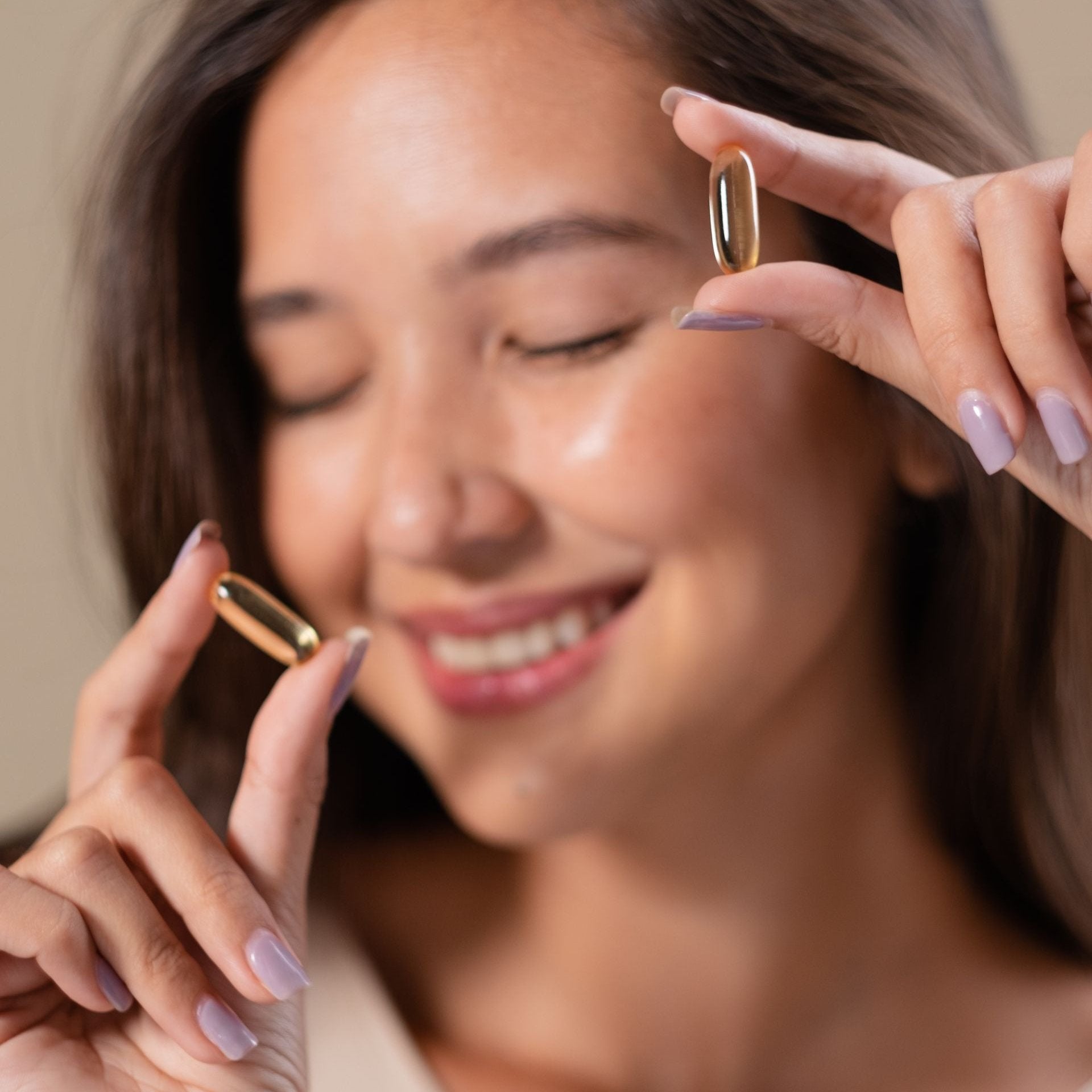 Triple Omega 3
Triple Omega 3 are high strength Omega 3 supplements designed for total body and skin health.
Omega 3's are essential fats needed for skin health & radiance. They help support skin barrier function and skin hydration and especially helpful in dry/inflammatory skin conditions such as eczema, acne, psoriasis and rosacea.
Omega 3's are also beneficial for heart and brain health and overall anti-inflamatory action in the body. Omega 3 supplements are considered by many as the most important supplement to take for overall health & wellbeing. 
FREE CANDLE OR REED DIFFUSER WITH ORDERS OVER £200
Triple Omega 3 are high strength Omega 3 supplements designed for total body and skin health.

Omega 3's are essential for skin health & radiance and like so many of Mother Nature's super foods, omega-3 fatty acids don't just help one body part but work their magic from top to toe.

Omega 3's are essential long chain fatty acids. What 'essential' means is that the body cannot make them so they need to be consumed daily in the diet. Their benefits are conferred to the skin and other organs through the blood supply. If your diet is lacking in Omega 3's then your brain, heart & skin will all suffer. They work in the body as powerful natural anti-inflammatories and play a role in long term brain, heart and skin health protection.

Anyone on a restricted, low fat or low calorie diet may be low in Omega 3 and will benefit from supplementation. If you eat a low fat diet you may also be missing out on the benefits of these good fats.

Even if you are eating a healthy balanced diet you can be low in Omega 3 if you don't eat enough oily fish like salmon, mackerel and sardines. You should be eating oily fish at least three times a week to get sufficient Omega 3 intake. Given that many people don't achieve this supplementation is a good way to ensure sufficient levels.

Omegas can help in many different ways:
• prevention of stroke
• prevention of cardiovascular disease
• promotion of overall health
• improvement of skin barrier function (especially good for dry skin, acne & eczema)
• healthy brain functioning (our brains are 60% fat, 1/3 of which should come from essential fats)
Take 1 -2 per day with food or as directed by your Health Care Provider.
Each softgel contains:

EPA 330mg
DHA 220mg

Contains FISH. Do not take if allergic to fish.

• A Daily intake of 250mg of DHA supports normal brain function and the normal maintenance of normal vision.
• A Daily intake of 250mg DHA/EPA contributes to normal heart function

Supplements are not intended to replace a healthy diet & exercise regime. If you have any medical conditions please check with your Health Care provider that this supplement is safe to take.

Store in a cold, dry place.
Keep out of reach of children at all times.
Review
These are a brilliant product for anyone concerned about their health and also for anyone struggling with dry skin conditions.
Let customers speak for us