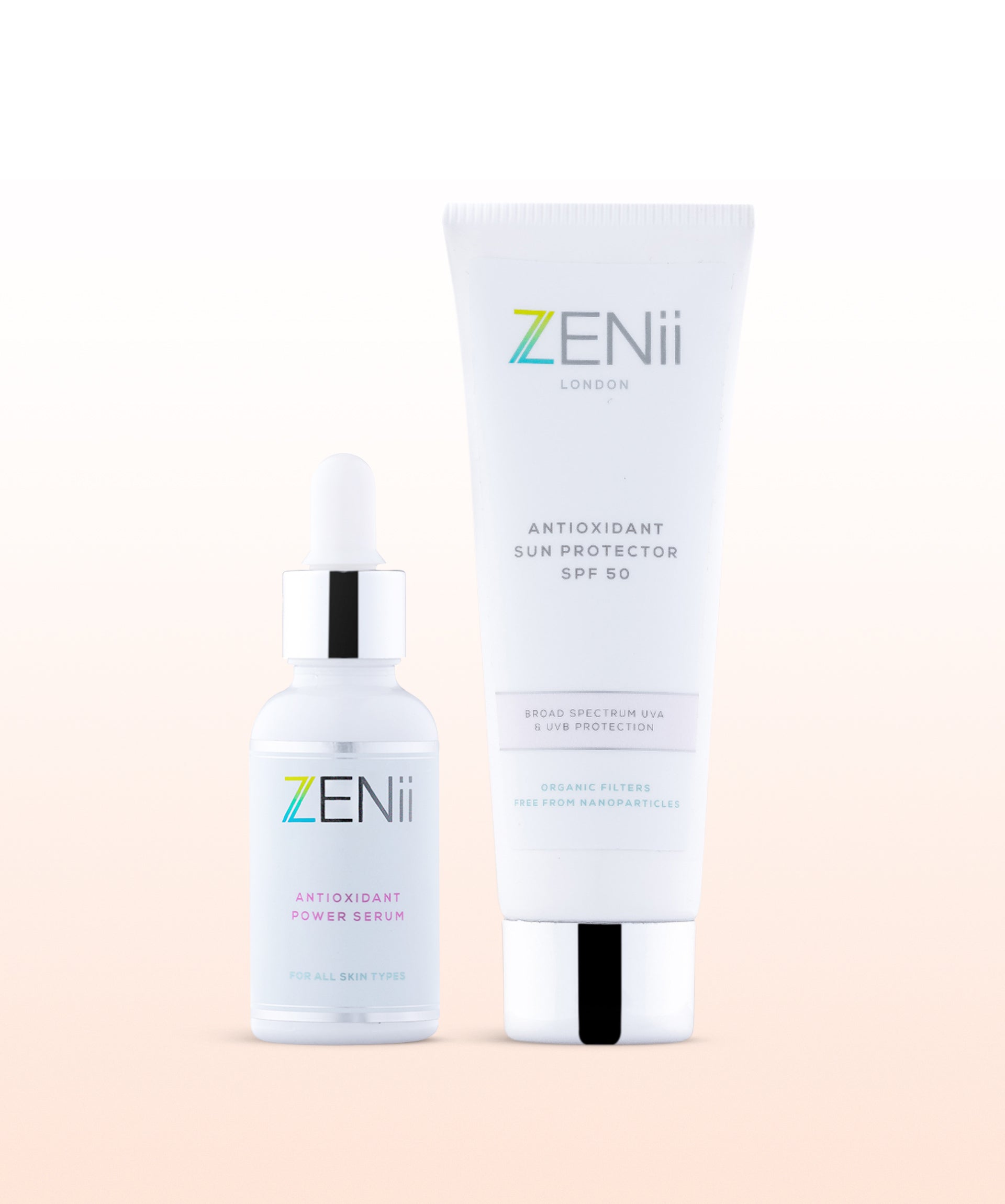 SPF Skincare Bundle (Medium)
Includes 1x Antioxidant Sun Protector SPF50 (100ml) + 1x Antioxidant Power Serum worth £125 (save 20%)

Award winning skincare, clinically proven to protect your skin all year round.
 
Antioxidant Power Serum: 
✅ Floods the skin with protective antioxidants that work to neutralise harmful free radicals.
✅ Works as a shield to protect the skin from harmful UV and HEV rays.
✅ Contains Vitamin C to brighten the skin and control unstable pigment cells.
✅ The low molecular weight hyaluronic acid in serum helps to deeply hydrate at the cellular level and gives the skin a dewy glow.

Antioxidant Sun Protector SPF50 (100ml):
✅ Lightweight broad spectrum SPF 50 ideally for daily use on the face.
✅ Does not cause break outs or occlude the skin due to the lightweight non-comedogenic formula.
FREE CANDLE OR REED DIFFUSER WITH ORDERS OVER £200
Antioxidant Sun Protector SPF50 (100ml):

This is a broad spectrum UVA & UVB chemical sunscreen SPF 50 that will give the added benefit of hydration and antioxidants to the skin. Chemical sunscreens work by absorbing UV rays so that they cannot be harmful to the skin. It has a light and sophisticated texture that absorbs beautifully into the skin with no residue so it's ideal for daily use for men and women. Sunscreen needs to be reapplied every 2 hours for best protection and reapplied after water exposure.

Free from nanoparticles. Coral reef friendly. Organic filters.

Skin Types: Ideal for normal, mature & dry skin.

Antioxidant Power Serum:

20% L ascorbic acid (collagen support, antioxidant, anti-inflammatory, repairs photodamage)
2% Niacinamide B3 (antioxidant, reduces pores, smooths skin)
1 % Tocopherol (vitamin E – antioxidant)
1% Ferulic acid (antioxidant, supports vitamin C & E antioxidant activity)
0.5% Pantothenic acid B5 (anti-stress vitamin)
This potent antioxidant serum works like a shield to protect your skin from the ageing effects of environmental damage caused by UV radiation, pollution, toxins and chemicals in the environment.

Antioxidants work to neutralise free radicals in the skin. Free radicals are harmful and damaging electrically charged molecules that cause oxidisation of the cells. This is rather like biological rusting. We know that oxidisation accelerates skin ageing ~ using antioxidants daily considerably protects your skin cells from the damaging effects of free radicals. Antioxidants protect against the effects of UV exposure (sun), pollution, smog, city grime, chemicals, alcohol & smoking – all of which create free radical damage.

Our antioxidant serum combines four of the best scientifically proven skin antioxidants in the most active form ~ Vitamin C, Vitamin E, Vitamin B3 (niacinamide) and ferulic acid. It is a truly magnificent, high calibre formulation for anyone serious about skin health.

Suitable for all skin types

Vitamin C: Vitamin C is the most scientifically researched, proven and evaluated of all antioxidants. We use it in the L ascorbic acid form because studies show that this form of vitamin c is stable and able to penetrate deeply into the skin to disarm free radicals. We use it in a powerful 20% concentration to super charge your skin's ability to fight oxidative damage. Vitamin C protects the skin from oxidative stress by sequentially donating electrons to neutralise free radicals.

Ferulic acid: is found naturally in the seeds of fruits as well as some vegetables, nuts, bran and grains. It is a potent antioxidant that fights free radicals reducing potential cellular damage. Ferulic acid helps stabilise the antioxidant actions of vitamin C & Vitamin E.

Vitamin E: is another well studied and powerful antioxidant. It occurs naturally in the skin but easily becomes depleted due to constant environmental exposure to the sun, pollution, infrared, smog etc. It works best with, and to enhance the effects of, Vitamin C.

Niacinamide (Vitamin B3): is an antioxidant, reduces pores, smooths the skin & helps improve the skin barrier function.

Sodium Hyaluronate: is a super skin hydrator due to its capacity as a humectant. This means it is able to hold up to 1000 times its weight in water. It also works as an antioxidant and a skin protector. It has been used in dermatology for many years to try skin dehydration.

Studies:

Studies have shown that Vitamin C is equally effective against both UVB (290-320 nm) and UVA (320-400 nm) exposure.(Tracikovicj SS Arch Otolaryngol Head Neck Surg. Use of Topical ascorbic acid & its effects on photo damaged skin topography. 1999 Oct: 125(10):1091-8)

Studies have also shown that L ascorbic acid works well alone as an antioxidant & photoprotector, but works ever better in conjunction with Vitamin E. Studies show that Vitamin E potentiates the action of Vitamin C four-fold and that Vitamin C and Vitamin E together protect the hydrophilic and lipophilic compartments of the skin cell. What this means is that Vitamin C and Vitamin E used together synergistically limit chronic UV damage by significantly reducing both cell apoptosis and thymine dimer formation.

Studies have shown that a combination of at least 0.5% ferulic acid with L ascorbic acid 15% and tocopherol 1% increases the Vitamin C's potency 8 fold. (Farris PK. Cosmetical Vitamins: Vitamin C. In: Draelos ZD, Dover JS, Alam M, editors. Cosmeceuticals & Procedures in Cosmetic Dermatology. 2nd ed. New York: Saunders Elsevier; 2009. pp. 51–6)
Antioxidant Sun Protector SPF50 (100ml):

Apply a generous amount to the face and neck after all other morning skincare products have been used. Reapply regularly for ultimate protection. AM

Antioxidant Power Serum:

Use 3-7 drops on face, neck, décolleté & hands as required. AM

Always replace the lid and keep out of direct sunlight to preserve the activity of the antioxidant.

Once opened this product will have a shelf life of 6 months. After that it will likely have oxidised and will no longer work effectively to protect & shield the skin.
Antioxidant Sun Protector SPF50 (100ml):

Aqua, Caprylic/Capric Triglyceride, Bis-Ethylhexyloxyphenol Methoxyphenyl Triazine, Diethylamino Hydroxybenzoyl Hexyl Benzoate, Octocrylene, Glyceryl Stearate SE, Ethylhexyl Salicylate, Glycerin, Propylene Glycol, Cetyl Alcohol, Cyclomethicone, Dimethicone, Glyceryl Stearate, PEG-100 Stearate, Isopropyl Palmitate, Aloe Barbadensis Leaf Juice, Citric Acid, Panthenol, Sodium Cocoyl Isetthionate, Glycolic Acid, Phenoxyethanol, Decylene Glycol, Caprylyl Glycol, Sodium Benzoate, Potassium Sorbate, Parfum, Hydroxycitronellal, Hydroxyisohexyl 3-Cyclohexene Carboxaldehyde, Butylphenyl Methylpropional, Linanool

Antioxidant Power Serum:

Aqua (water), Ethoxydipropanediol, L Ascorbic acid, Propylene Glycol, Glycerin, Laureate 23, Tocopherol, Ferulic Acid, Panthenol, Triethanolamine, Sodium Hyaluronate, Sodium PCA, Niacinamide, Phenoxyethanol, Ethylhexylglycerin.
Let customers speak for us